Levitating Floating Magenet Light Bulb
Magic magnetic suspension technology, cool and fashion design.
Low power consumption and energy saving.
---
ROBOQI® with Alexa Built-in AI Qi Wireless Charging Car Mount
The best AI powered hands-free 15W Qi wireless charger car mount.Control your music, maps, shopping & messages with voice control.
✅ Amazon Alexa AI Built-in
✅ 10W Qi Fast Wireless Charge
✅ Snap & Go Design - US Patent
✅ Hands-Free Voice Control
✅ Bluetooth & FM Transmitter Inside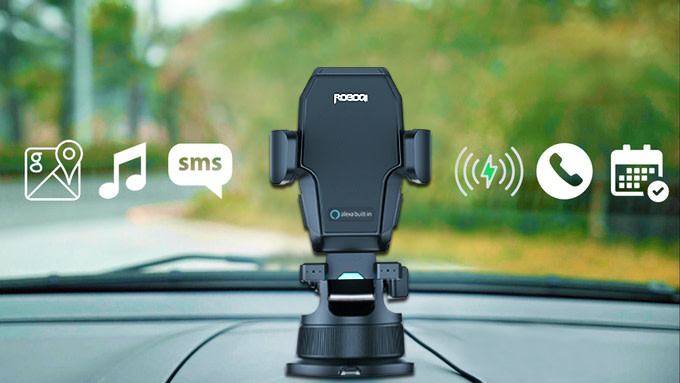 "There's no better place for voice than in the car," says Miriam Daniel, Amazon's head of Echo products. You want to keep your hands on the wheel and eyes on the road, so using your voice makes more sense. For your safety, you need a voice-controlled device. You need a charger to charge your phone. In addition, you need a phone holder while navigating. Today, we bring the ultimate solution, ROBOQI 2.0 Alexa.   With Alexa, you can ask to get driving directions, play music, make hands-free calls, control smart home devices, and much more.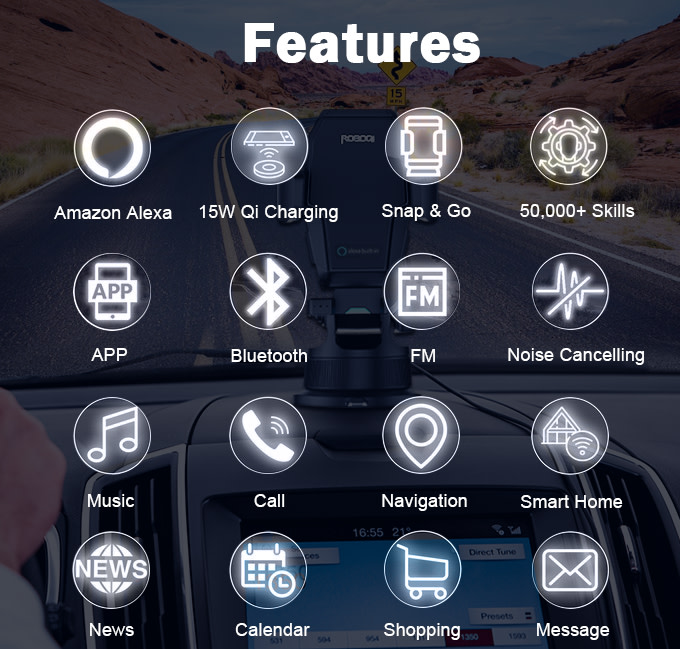 ROBOQI 2.0 Alexa is the World's First AI Wireless Car Mount with Amazon Alexa built-in. It connects to your smartphone via Bluetooth and intelligently controls your music, maps, callings, and messages with just your voice meanwhile charging your phone. Put your smartphone on ROBOQI and say 'Alexa, play funky music' or 'Alexa, navigate home', and ROBOQI's AI will do the rest, playing sound through your car's stereo.
Connecting to Alexa through a hyper-powerful, intelligent platform, ROBOQI can send and receive commands rapidly and reliably, making your life easier. The way it works is simple: you send a command, Amazon receives it on its cloud server, and Alexa responds through your car speakers (using Bluetooth or FM Transmitter inside).   


ROBOQI H2 Qi Wireless Charging Alarm Clock FM LED Touch Screen Bluetooth Speaker Premium Stereo Sound

To make ROBOQI H2 a perfect speaker, we mix modern technology into design, the touch panel, portable and easy. The touch-sensitive control on the top allows you to freely adjust and operate.

Alarm Clock Radio with Time Projection Wireless Charging Bluetooth Speaker by ROBOQI
In-Stock US Warehouse, 3-7 Days Delivery Guaranteed 
WIRELESS CHARGING:It is highly compatible to meet your most demanding needs. Compatible with iPhone XS, XS Max, XR, X, 8, 8Plus ; Samsung Galaxy S10+, S10e,S10,S9+, S9, Note 8, S8, S8 Plus, Note 7, S7 Edge, S7, S6 Activ, S6 Duos, S6 Edge, S6, Note 5 ; Nokia Lumia 830, 920, 1020, 1520, 930 ; Google Nexus 6, 5, 4 ; LG G6/ V30,and More. When the DC12 cord is plugged in,it can charge the phone by placing phone in a wireless charging area

"CLOCK PROJECTION FUNCTION:project time to the ceiling and wall, projection can be rotated 180 degrees and the sharpness can be adjusted.Upgrade version has 24, 12 hours time switch.

"DOUBLE ALARM MODE: no longer afraid of getting up, you can set up two different time alarms to get up at the same time.You can DIY your favorite alarm bell by recording music, ringtones, language. "

"THREE PLAY MODELS:support Bluetooth/AUX/TF card playback, to meet a variety of playback needs. You can choose the playback mode according to your own preferences and needs.You can choose FM radio function to listen to your favorite radio station. "

LARGE-CAPACITY BATTERY: powerful battery life built-in 3600mAh, car power battery sustainable standby 72 hours.Full screen mirror design is sleek and simple, map your beauty at any time while listening to music.
Combination of bluetooth speaker, wireless charger, time projector and DIY alarm. You can play music and audio output while charging your phone wirelessly.